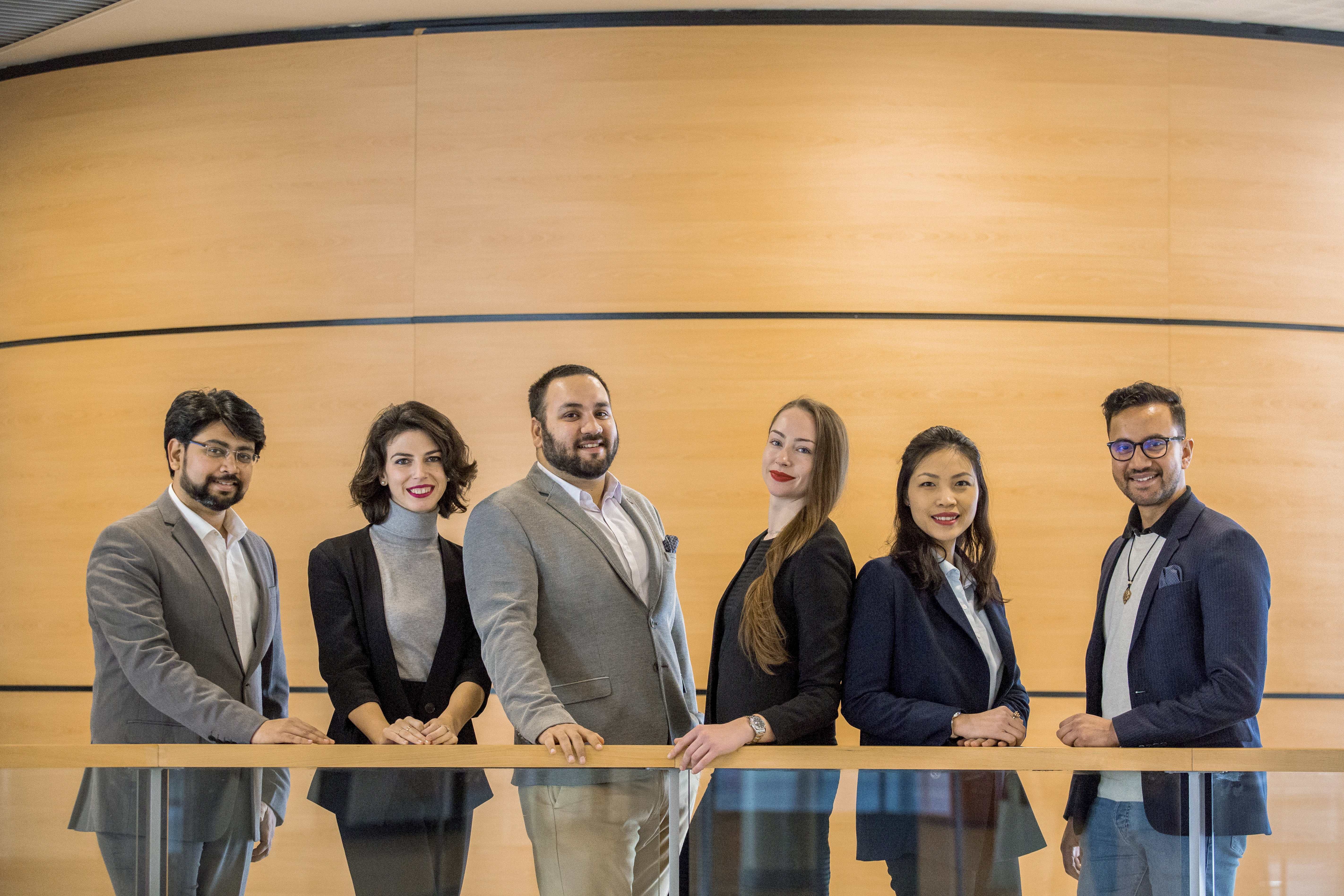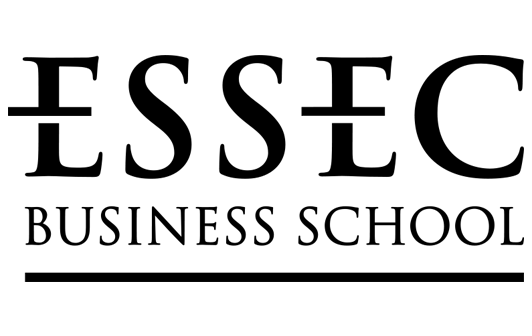 ESSEC Business School is accredited by AMBA, AACSB, and EQUIS
The school is ranked #2 Top Master in Management in France - Grande École 2021
ESSEC's Global MBA program is ranked #9 worldwide for International Course Experience - Financial Times Global MBA 2021
ESSEC Business School was ranked #3 in Executive Education Customized programs - Financial Times 2020
#6 Best European Business School - Financial Times 2020
The school's ESSEC & Mannheim Executive MBA program ranked #12 Executive - The Economist 2020
ESSEC runs 4 campuses in Europe, Africa, and Asia – all emphasizing on research, teaching, and entrepreneurship
Over 98% of students in the Master in Management program are recruited within the 6 months following graduation.
ESSEC's Knowledge-Labs, also known as the K-Labs, are spaces for creativity and high-density technological learning. They offer the opportunity to interact with experts and test, develop, and model new ideas.
ESSEC Ventures – an incubation for ESSEC students' startups has a 73% survival rate at 3 years - with over 420 companies created since the venture's establishment in 2000.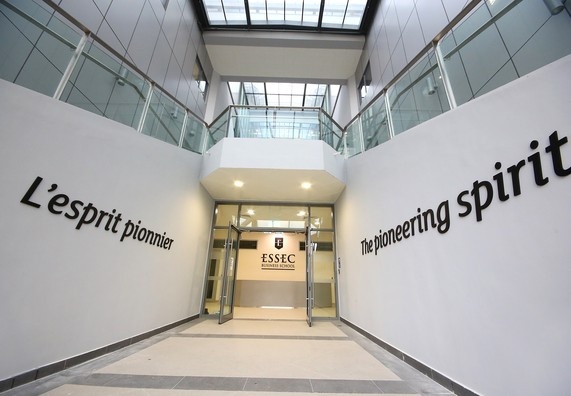 A pioneer of business-related learning since 1907, ESSEC's mission is to respond to the challenges of the future. In an interconnected, technological, and uncertain world, where the tasks are increasingly complex, ESSEC offers a unique pedagogical approach. This approach is founded on the creation and dissemination of cutting-edge knowledge, a blend of academic learning and practical experience, and a multicultural openness and dialogue.
Since its creation in 1907, ESSEC Business School has built a reputation on high standards, a quest for excellence, and a belief in intellectual freedom. A research-driven academic institution, ESSEC has always tried to incarnate and transmit its five fundamental values of humanism, innovation, responsibility, excellence, and diversity.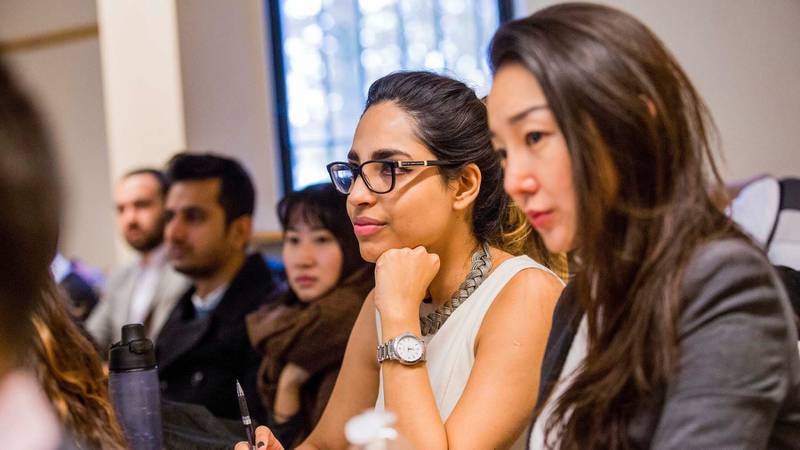 The Global MBA
This one-year program offers two majors — Luxury Brand Management and Strategy & Digital Leadership. Each is anchored in sustainability and digital transformation. As such, all GMBA participants, regardless of their chosen track, follow a course on responsible leadership to understand sustainability and courses on artificial intelligence, social justice, and geopolitics.
Beyond the classroom, participants will embark on business and virtual trips to key markets across the globe. These trips combine a unique blend of cultural and professional activities as participants explore how business is conducted worldwide. This international reach also extends to participants' career interests. ESSEC's Talent Center fosters solid relationships to offer participants career services tailored to their goals.
Key facts of the Global MBA program:
Duration: 12 months, Full-time MBA
Intake: September
2 Specializations - Strategy & Digital Leadership - Luxury Brand Management
3-5 countries - discover global markets through our campuses and business trips
Language of instruction: English
Tuition Fees: €49,500
Application fees: €130
The Executive MBA
With the inception of ESSEC & Mannheim Executive MBA in 2004, two of Europe's leading business schools - ESSEC Business School and Mannheim Business School - joined forces to create a program that is European in tradition but international in outlook. Since then, the partner schools have widened the program's international scope to integrate an Asia-Pacific track in 2014, delivered from ESSEC's Singapore campus.
The ESSEC & Mannheim Executive MBA is designed to:
Acquire relevant knowledge and tools readily applicable to the challenges of your job
Develop a 360-degree view of business and expertise in all corporate functions
Share best practices with peers and gain first-hand insights into different industries and functions through a group work philosophy
Gain an international perspective on doing business through exposure to a variety of cultures and growing business markets
Enhance your leadership skills in preparation for taking on top-level jobs
Create and develop a valuable and lasting network of business partners and friends
Executive MBA key facts – European track:
Location: La Défense, Paris and Mannheim
Intake: October 2022
Program fee: €53,000 (excl. VAT)
Application fee: €150
Class size: 50 participants & 25 nationalities
Duration: 67.5 days over 18 months
Executive MBA key facts – Asia-Pacific track:
Location: Singapore
Intake: October 2022
Program fee: SGD 97,000
Application fee: SGD 200
Class size: 25
Duration: 15 months
Application deadline: Rolling application
Average age: 40 years
Cergy campus
The main ESSEC campus is located in Cergy. Inaugurated in 1973, the site is located in the city and open to the public, mixing students and inhabitants in the area. Located 35 minutes from the center of Paris, the Cergy campus, in the heart of the new town, is an area designed for studying, sharing, and communicating. It proposes 4 nearby university residences.
Paris La Défense campus
Located in the famous CNIT building, in the heart of Europe's largest business district, ESSEC's Paris La Défense campus is designed to meet the needs of executive education participants.
Singapore campus
In the heart of the One-North sector, dedicated to research, teaching, and entrepreneurship, the new Asia-Pacific campus welcomes full-time students and executive education participants to 6,500 m² of academic facilities. Inaugurated in May 2015, this campus is both at the forefront of technology while meeting the most demanding environmental norms and standards.
Rabat campus
Baptized ESSEC Africa-Atlantic and launched in 2016, this new campus is located in the municipality of Sidi Bouknadel in the heart of the Rabat-Salé urban area. It hosts ESSEC's academic activities, notably a track from the Global BBA program, and those directed in partnership with the Ecole Centrale based in Casablanca and high-level Moroccan academic institutions such as the International University of Rabat.
Bank Loans
Most students fund their MBA in part, or fully, through a direct bank loan or a student loan provider. As an ESSEC participant, you may be eligible for a preferential rate bank loan with the Cergy branch of LCL, which covers full tuition and is repaid starting at the end of your first year of work. Please be advised that loan applicants are strictly required to have a guarantor living in France.
Funding from Prodigy Finance
Participants from 150 different nationalities looking to apply to the Global MBA program may apply for Prodigy Finance loans. Contrary to the banks in France, Prodigy does not require collateral or a co-signer. These loans are granted on the participant's future earning potential and do not take into account credit history. Interested candidates may apply online on the Prodigy website.
ESSEC Scholarships and early-bird discounts
ESSEC provides various merit-based scholarships based on their profile and experiences, both academic and professional. Take a look at our offer of scholarships and discuss them with our team of advisors. The earlier you apply for a scholarship, the higher your chances of being considered.
Personal or employer funding
Since its creation, ESSEC has always cultivated a spirit of entrepreneurship and innovation, which lies at the very core of its educational approach: research and managerial practices. Over the past few decades, ESSEC has designed a combination of courses, seminars, internships, professorships, and incubators to facilitate and nourish the entrepreneurial spirit of its students and participants.
Entrepreneurship at ESSEC is no one-size-fits-all, but rather a very customizable journey in terms of both courses and incubation:
General Entrepreneurship
Intrapreneurship
Cleantech Entrepreneurship
Social entrepreneurship
Entrepreneurship in the Life Sciences
Entrepreneurship in the media
Female entrepreneurship
ESSEC Ventures and other entrepreneurship programs
Through its student incubator, ESSEC Ventures, its social enterprise accelerator program "Antropia ESSEC" and its "Club Generation Startuppeuse" which supports female entrepreneurship, ESSEC has established a unique entrepreneurial ecosystem. It enables students, participants in continuing education programs, and external entrepreneurs to benefit from dedicated support to create and grow enterprises in a variety of areas.
Any ESSEC student wishing to launch an entrepreneurial project is eligible for the incubator. Applying to ESSEC Ventures can be done at any time during the year or during their ESSEC training. You join the incubator when you are ready to get started! The student incubator is free of charge and is part of the services offered by ESSEC in all its graduating programs. It adapts to the maturity of the projects and allows them to be immersed in a favorable ecosystem.
Key numbers of ESSEC's entrepreneurship programs:
Over 600 coached business projects
Over 420 companies created
Average 73% survival rate at 3 years
Over 10,200 jobs were created by incubated and/or supported companies
Over Є1.9 billion raised in capital
Over 8,000 students trained