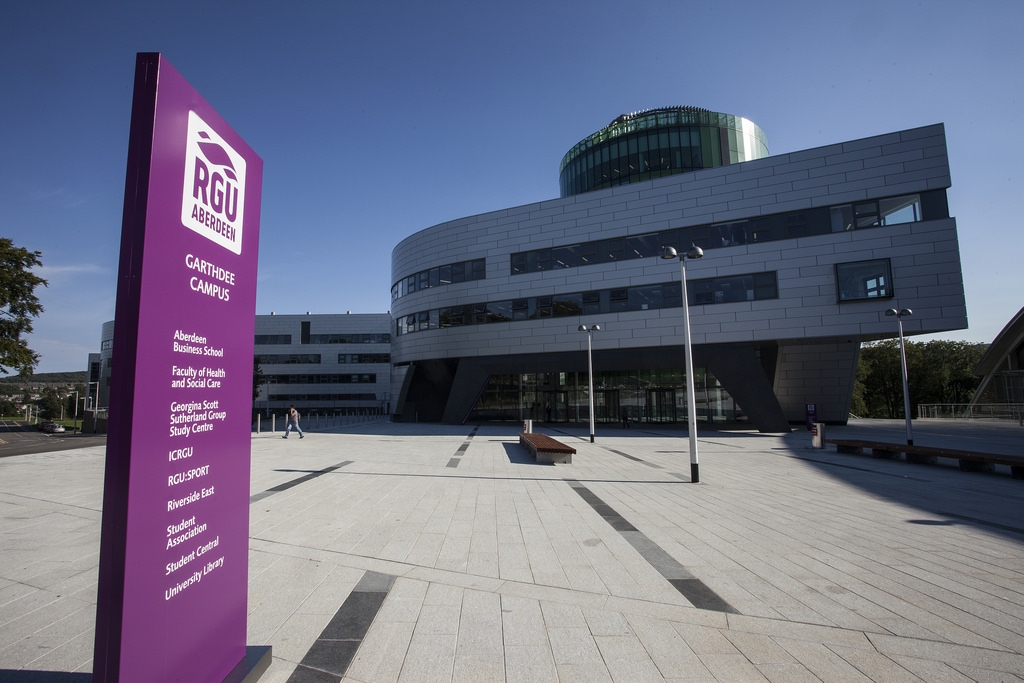 Management, Engineering, Health, Art and Design
Robert Gordon University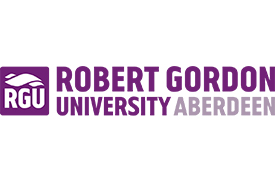 Scholarships available to all international students
Aberdeen is a top ten city to live in and work
16,000 students from 147 different countries
300+ courses in a wide range of different subjects
Courses ranging from Foundation to PhD Level degrees
28 startups supported by our RGU Accelerator Programme in 2018
Awarded the TEF Gold Certificate for teaching excellence
Robert Gordon University's role in the community can be traced back nearly three and a half centuries to the birth of Aberdeen merchant and benefactor Robert Gordon in 1668. The university's focus is democratising education, so that communities in Scotland and across the globe can benefit from world-class graduates that are real-world ready.
And our commitment to innovative research also ensures we pursue cutting-edge solutions to problems the world is actually facing today. A learner-centric approach, supported by our state-of-the-art facilities and flexible course structure makes education work for our students, staff and partners. Not the other way around. Through our graduates and partnerships, we believe we can make tomorrow brighter than today.
RGU is ranked 34th in the world for its Graduate Employability Rate in the QS Graduate Employability Rankings (2019), which is higher than institutions such as Harvard, Oxford and Cambridge, and demonstrates how appealing our teaching methods, facilities and reputation are to industry.
We are committed to helping every single student become as attractive as possible to future employers. To help us achieve this we have invested in the development of our campus to further enhance our teaching facilities and offer the most up-to-date technology. The use of technology in our teaching extends across many subjects and we have always been proud to be an early adopter of innovative methods that enhance the learning experience.
At RGU we use an 'applied' teaching approach. As well as providing you with the necessary academic and theoretical understanding of your subjects, we try as far as possible to ensure there are practical elements too. These practical elements come in the form of industrial placements, internships, consultancy projects and voluntary opportunities. Whilst the vast majority of our undergraduate courses include a professional placement, almost all of our MSc courses will include the opportunity to do an academic or professional consultancy project in the form of a research project or dissertation. This is a great opportunity to develop your subject knowledge and industry related exposure.
In recent years Robert Gordon University has invested more than GBP 120 million into its stunning riverside Garthdee campus on the banks of the River Dee which has been specially designed with state-of-the-art facilities to enhance our students' learning experience and, ultimately, their employability at the point of graduation.
You will learn in purpose-built and modern facilities during classes, and relax outside of lectures in the tranquil parkland around the campus.
Catering
All campus buildings offer catering options.
Library
You can't miss the striking green glass Library tower. There are four floors of books and journals and over 250 computer workstations. The library is open to all students and staff. Even if you are enrolled in an online course, you will have full access to the library and borrowing facilities throughout your time studying.
The Sir Ian Wood Building
Architecture and Built Environment/Computing and Digital Media/ Engineering/Pharmacy and Life Sciences
3D Printing Modelling Workshop
Mac Suite
DART Simulator
Wave Tank
ROV Pit
Wind Tunnel
Simulation Centre (Mock Pharmacy)
Clean Room Suite
Mock Crime Scene Area
Forensic Imaging Suite Microscopy Suite
Food Handling and Preparation Labs
Innovation Station
Analytical Science Laboratory
Cell Culture Laboratory
Cyber Security Lab
Catering Facilities
Library
Ishbel Gordon Building
Health/Applied Social Studies/Nursing & Midwifery
Clinical Skills Centre
Human Performance Lab
Radiography Suite
Occupational Therapy Home Setting
Psychology Laboratory
Test Library
Catering Facilities
Student central
Student Help Point
Employability & Professional Enhancement Services
Study Support
Wider Access and Outreach
Counselling Support and Wellbeing
The Inclusion Centre Advice and Support
International Student Advice, Visa and Immigration Centre
ResLife
RGU Union
Get involved in sports clubs, societies, student media, charity fund-raising, community volunteering, student elections, mental health campaigns and environmental issues. There is also a student store and second-hand bookshop.
RGU Sport
Gyms
Climbing Wall
Swimming Pool
Sports Hall
Catering Facilities
International College
ICRGU offers International pathways into a number of undergraduate degree programmes.
Aberdeen Business School
Business/Creative and Cultural Business and Law
TV and Radio Suite
Fashion Place
Moot Law Court
Digital Moffat Space
Georgina Scott Sutherland Group Learning Centre
Cash Machine
Catering Facilities
Multi-faith centre
There are multi-faith prayer facilities available at Kaim Cottage.
Gray's School of Art
Fine Art and Design
Printmaking Suite
Sculpture Studio
Mac Suite
Photography Studio
Exhibition Spaces
Textile Studio
Fine Art Studios
Catering Facilities
The focus of Robert Gordon University's MBA degree programmes is leadership. The university offers a first-class learning environment in which to study for an MBA, blending the latest academic thinking with business knowledge and expertise, all of which is reflected in the MBA programme.
Industry specific content
The on-going interaction with CEOs, directors and key managers continues to ensure the curriculum is relevant, current and appropriate to the needs of senior managers of the future. The MBA is taught by experts and leading academics who have had successful careers within the corporate world.
Aberdeen – the European energy hub
The campus is located within five miles (8km) of more than 100 major oil and gas companies,
including BP, Shell, Total, Taqa, Chevron, Exxon Mobil, and ConocoPhillips. These companies are part of the RGU network.
RGU's MBA Careers and Employability programme is a suite of workshops designed to stimulate your thinking, put you in control of your career planning and prepare you to compete effectively in the dynamic and competitive labour market.
Interactive business simulation exercise
Students enter a competitive business simulation exercise which challenges their technical and interpersonal skills.
The business simulation exercise leads to the so-called leadership week, an intensive six-day event for all MBA students with guest speakers from academia and industry. This includes an outdoor leadership development day and a career leadership event, where business leaders will mingle with students.
This seven-week project gives you the opportunity to apply the knowledge, skills and understanding gained from the taught elements of the course within a business context. The MBA project emphasises the analysis resolution of strategic issues within a practical and often global business environment.
Good things come in small packages
The RGU MBA maintains a small cohort approach which means small class sizes allowing better engagement with the academic team and classmates right from the start of your studies. RGU appreciates that its students are already experienced managers and it teaches in an interactive and intimate setting that allows your experiences to be shared with your classmates, and for you to benefit from their experiences too. Furthermore, you will have personal tutoring, personal development opportunities and dedicated career counselling available to you.
MBA Sustainability and Energy Transitions
The MBA Sustainability and Energy Transitions programme at Robert Gordon University aims to build on your prior professional experience to enable you to acquire a wider range of management knowledge and skills with additional specialist focus on sustainability and energy transitions, which are highly relevant issues for managers and leaders in the industry today.
This course is rooted firmly in professional practice and is designed to give you the ability to apply strategic thinking and leadership practice in a variety of different sectors. The consultancy project is undertaken in conjunction with an appropriate organisation.
Accredited by AMBA
The MBA degree programmes at RGU are accredited by AMBA, which is regarded as the international authority on the development of business leaders and the guardian of MBA quality standards. The Association plays a unique role in supporting business schools to develop business leaders and provides a network for MBAs, business schools and employers.
Not every university which offers an MBA meets the exacting standards of what AMBA expects of a truly global MBA. By choosing RGU, you are getting a guarantee from AMBA that the university is adhering to these standards. Of all the thousands of business schools in the world, AMBA only accredits MBAs at 190 universities – and RGU's is one of them.
KEY FACTS
Study Options
On campus: full-time, September/12 months
Online: full-time, January/16 Months
Online: part time, September/2 years
Online: part time, January/28 months
ADMISSION REQUIREMENTS
Official copies of your college/university certificate (if available at time of application)
Official copies of your academic transcripts (if available at time of application)
Copy of current and up-to-date CV/resume
Letters of reference (if available)
Proof of English language proficiency (non-UK students only). RGU's pre-sessional English Programme (PSP) is available for students who have not yet reached the required English level and those who would like to improve their language competency.
Copy of passport (international full time applicants only or as requested)
Evidence of sponsorship or scholarship (if appropriate/applicable)
ENTRY REQUIREMENTS
Applicants must normally hold a 2:2 undergraduate honours degree or its equivalent in any subject discipline and have at least 3 years of full-time professional work experience.
Applicants with a lower degree classification and/or relevant work experience will be considered on a case-by-case basis.
Completion of ACCA Applied Skills Modules to BSc level combined with 3 years of relevant professional work experience OR completion of ACCA Strategic Professional Modules* to MSc Level combined with 3 years of relevant professional work experience.
Whether you have recently graduated, want professional accreditation, are looking to retrain or develop your career - whatever your reasons for postgraduate study - Robert Gordon University offers a wide range of Master's courses with flexible study modes including online, part-time or full-time to fit around your needs.
COURSES OFFERED
Aberdeen Business School
MSc Accounting and Finance
MSc Financial Management
MSc Oil and Gas Accounting and Finance
MSc Business Innovation and Entrepreneurship
MSc Business Leadership and Management
MSc Business with Financial Management
MSc Business with Human Resource Management
MSc Business and Management
MSc Business with Marketing Management
MSc Business with Strategic Risk Management
MSc Energy Management
MSc Human Resource Management
MSc International Business Management
MSc Project Management
MSc Procurement and Supply Chain Management
MSc Health, Safety and Risk Management
MSc Quality Management
Graduate Certificate Project Management
MBA Master of Business Administration
MBA Oil and Gas Management
MBA Sustainability and Energy Transitions
The Law School
LLM/MSc Oil, Gas and Renewable Energy Law
The MSc/LLM Oil, Gas and Renewable Energy Law degree provides an opportunity to critically assess key legal and contractual aspects including: licensing, contracts, M&A, environmental and renewable energy of the global Energy and Oil and Gas sectors, both in the UK and leading international regions.
The course covers basic legal concepts in depth before building on this knowledge by moving onto specific energy, oil and gas law content. Students develop key transferable legal skills to drive their career further and on successful completion they are able to understand and deal with some of the main energy legal issues in the industry.
LLM/MSc Construction Law and Arbitration
LLM Law (with Dispute Resolution/ International Commercial Law/ International Law/ Energy Law)
School of Creative and Cultural Business
MSc Corporate Communication and Public Affairs
MSc Fashion Management
MSc International Marketing
MSc International Tourism and Hospitality Management
MSc Journalism
MSc Digital Marketing
MSc Information and Library Studies
MSc Business Analytics
Graduate Certificate Petroleum Data Management
School of Computing
MSc Cyber Security
MSc Data Science
MSc Information Technology with Business Intelligence/ Cyber Security/ Network Management
MSc IT for the Oil and Gas Industry
School of Engineering
MSc Asset Integrity Management
MSc Drilling and Well Engineering
MSc Oil and Gas Engineering
MSc Petroleum Production Engineering
MSc Subsea Engineering
MSc Solar Energy Systems
MSc Biomedical Technology
Scott Sutherland School of Architecture and Built Environment
MSc Construction Project Management
MArch Architecture (Part 2)
MSc Advanced Architectural Design
Gray's School of Art
MA Communication Design
MA Curatorial Studies
MA Fashion and Textiles
MA Fine Art
MA Jewellery
MA Product Design
School of Applied Social Studies
MSc Social Work
MSc Applied Psychology
School of Health Sciences
MSc Public Health and Health Promotion
MSc Physiotherapy (pre-registration)
School of Nursing, Midwifery and Paramedic Practice
MSc Advancing Nursing Practice
School of Pharmacy and Life Sciences
MSc Clinical Pharmacy Practice
MSc Clinical Pharmacy Service Development
MSc Pharmaceutical Science
MSc Advanced Pharmacy Practice
MSc Analytical Sciences Drug Analysis and Toxicology
MSc Analytical Sciences Environmental Analysis
MSc Analytical Sciences Food Analysis, Authenticity and Safety
KEY FACTS
Format: full-time, part-time, online
Duration: 1 or 2 year(s), depending on the chosen major
Intakes: September / January
Tuition fees: Tuition fees vairy depending on the chosen major
Situated in the energy capital of Europe, with ties to oil and gas and other industries, RGU is the perfect environment for those pursuing a career in the engineering sector.
Academic team members at RGU's School of Engineering have a wide-range of qualifications, experience and expertise, which is reflected in the portfolio of innovative and flexible degree programmes on offer. They also engage in research, consultancy and the provision of specialist courses for industry. This means that the school is actively involved in all aspects of the engineering profession, and can keep you up-to-date on current practices and modern advances, as well as challenges facing the industry.
RGU is ranked 1st in Scotland for level of earnings in engineering, 1 year after graduation for undergraduate[VV1] courses (LEO published 2019)
COURSES OFFERED
School of Engineering
MSc Solar Energy Systems
This is the first and only postgraduate course of its kind in the UK focusing on solar as a renewable energy. The MSc Solar Energy Systems course will help you to develop an in-depth understanding of the theory and practice, along with professional and research skills necessary to characterise, design and manage solar energy systems.
A unique element of this course is the collaboration with industry and its relevance to the current issues in the modern-day solar energy sector. We are actively working with Scottish companies on the development of solar energy systems for new applications, and this provides you with opportunities to work on industrial projects which will enhance your employability.
MSc Asset Integrity Management
MSc Drilling and Well Engineering
MSc Oil and Gas Engineering
MSc Petroleum Production Engineering
MSc Subsea Engineering
MSc Biomedical Technology
KEY FACTS
Format: full-time, part-time, online
Duration: 1 or 2 year(s), depending on the chosen major
Intakes: September / January
Tuition fees: Tuition fees vairy depending on the chosen major
The course is a vast and diverse compilation of industry related topics designed towards imbibing appropriate skills and the right professional attitude. I particularly appreciated the balance between group activities and individual submissions, which indirectly develops time and personnel management skills required of successful construction project managers. This programme has increased my confidence, expanded my professional network and prepared me for a prosperous career.
Oba' Aina, MSc Construction Project Management