The University of Warwick at EMU Campus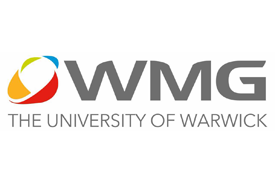 The University of Warwick is one of the UK's leading universities, with an acknowledged reputation for excellence in research and teaching, for innovation and for links with business and industry. Warwick has consistently maintained its position in the top ten of UK university league tables, offering courses with high academic content that are stimulating and challenging.
Since 2011 Eastern Mediterranean University has been the official Cyprus center for WMG, University of Warwick MSc programmes in Engineering Business Management and Supply Chain and Logistics Management.
The University of Warwick is currently ranked number 8 in the UK according to the Guardian 2018 ranking of universities, and number 57 in the world (QS World Rankings). Hence, these programs offer the chance to get a full postgraduate degree from one of the world's top Universities.
WMG (Warwick Manufacturing Group)
The largest academic department at the University of Warwick, WMG is a leading multidisciplinary group making a real impact through collaborative R&D and world class education. Working together with industry, it develops solutions to both business and technical challenges, helping organisations to improve their competitiveness in a wide range of sectors including automotive, aerospace, defence, digital, construction, energy and utilities, finance, food and drink, healthcare, IT, pharmaceuticals, and rail.
By leveraging the results of these collaborations, and transferring that knowledge to its students, WMG has become a leading centre for both technical and management education, developing the future skills base for global industry. Challenging traditional ways of thinking, and sharing expertise and experience, WMG develops well-rounded individuals who can progress to the highest level.
A major aspect of the work of WMG has been the development of educational programmes, including a full suite of full-time masters' programmes. WMG has a number of overseas centers, including, since 2011, Eastern Mediterranean University, Cyprus.
By studying Master's courses in Engineering Business Management and Supply Chain and Logistics Management., you will gain expertise which is now in considerable demand from manufacturing and service industries as well as competencies required by anyone wishing to run their own business.
ENTRY CRITERIA
CGPA 2.7/4.00 or British Second Class Honours degree or overseas equivalent
Language requirements (applies to non-native English speakers only) IELTS 6.5 (no component lower than 6.0)
---
TUTION FEES
15, 000 $ (Full-time: one year; Part-time: 2-3 years)
SCHOLARSHIPS
20% upon acceptance
30% CGPA (3.00-3.50)
40% CGPA (3.50-4.00)